[FAQ]
Q:Do you sell in physical store?
A:Sorry, we only sold in website recently.
Q: Do you deliver to Malaysia or Singapore?
A:Yes, this website is for Malaysia and Singapore, we do deliver to this 2 countries.
[Shopping FAQ]
Q: How to order?
A: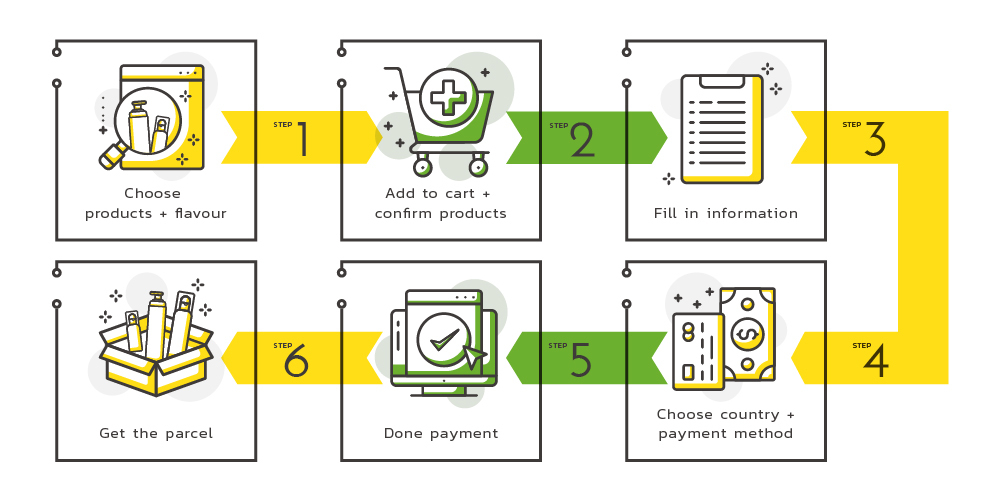 Q: I have 2 orders, can I combine them and send together?
A:Sorry, the system can't combine orders, so you are recommended to place in one order. Please note that there will be 2 or above shipping fees and orders if you place order separately.
Q:What payment method do you provide?
A:We provide 2 payment method: online transfer(MOLPay) and Visa/ Mastercard(Credit Card/ Debit Card). But online transfer only available in Malaysia.
**REMIND: Our VISA/Mastercard service is supported by third-party payment gateway, Stripe HK. Additional administration charge may occur based on your banks' overseas transaction policies.
Q: Can I pay in SGD?
A:You can only pay in MYR recently. If you want to know the price in SGD, you can change the currency to SGD and it will show the price roughly in SGD according to the exchange rate.
[Delivery FAQ]
Q: How much is the shipping fee?
A: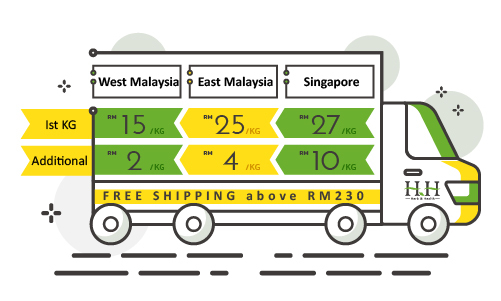 Q: How many days I can get the parcel after placing order?
A:You will get the parcel between 7-10 working days after we send out the parcel(Mainly depends on the delivery speed of the logistic). Between, it will takes longer time for East Malaysia, might takes around 10-14 working days.
Q: Will you inform after send out the parcel?
A:We will update the tracking number and send you an notification email for you. You can also check your tracking number in your order.
Q: Will I charged any additional taxes??
A:No, our logistic has assist the customs clearance, so there will not charge any additional taxes to our customers.
[Return FAQ]
Q: Can I apply for return or refund?
A:
1. Due to international logistics and complicated procedures involved, we don't accept returns and refunds.
2. If the packing is damaged or leaked when you receive the parcel, please contact us on FB messenger:  m.me/hh.malaysian
[Membership FAQ]
Q: How can I be a member?
A:Click 「Sign Up」to register, and you can choose to register with Facebook Account or Email. After register, you can fill in your information.
Q: What benefit can I enjoy as a member?
Q: How can I apply for the store credit?
A:The store credit will be applied automatically when in the checkout step. It will apply maximum 10% of the order amount.
(EX: New member RM15 store credit, and you spend RM150, maximum 10% offer = RM15. The total amount of the order will be RM135)
Q: Is there time limit for the store credit?
A:For the new member and birthday store credit, it only last for 30 days. For the store credit which rewarded on order purchased, will last for 90 days.
Q:How can I change my information for my account?
A:After sign in, click「My Account」>「Profile」, then you can check and edit your information, include: Email, password, name, phone number, address, etc.